Hello, I have decided to let you guys in on the fact that I now have what is for me a dream car of mine. It is a 1992 Vivio RXR with the EN07X which has the DOHC 16 valve supercharged and intercooled 660cc 4 cylinder engine. It was originally in Japan and imported to Canada. Iam the 3rd Canadian owner. I have owned 10 Subaru Justies in the past,( still have 5) but I really wanted one of these cars now for atleast 2 years. I traded a Running Justy for this car, did a minor repair, and have really been enjoying it since. Recently I had the chance to take it out to our local Drag strip. They have a open Friday night Drag session for licensed street cars every week. I cannot afford dyno time, but wanted to find out what this little thing would do while stone stock. Before I start modifying it for more power! I call my little terror: TAZ for the Lonnytoones Cartoon character. The one who is small and spins like a tornado as it cuts down anything in its path.
Here is Taz in line to get Teched, Iam using steel 13 inch rims off of a Justy, no wheel covers are allowed while racing.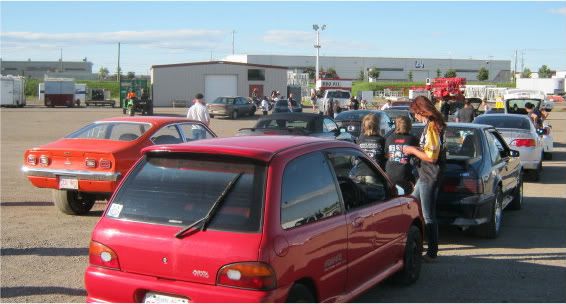 I made 6 passes down the old 1/4 mile track, all very traction limited in first and sometimes half way thru 2nd gear..
My best E.T. was 17.361 and M.P.H. was 78.94
Iam really happy with the results for a track like Race City at 3380 feet of elevation. Iam told that our Air density can be as high as 5000 feet sometimes. This means that a car can run 5 to 8 tenths quicker at sea level.
I took the car to get weighed at our local truck stop,cost me $10.00 Dollars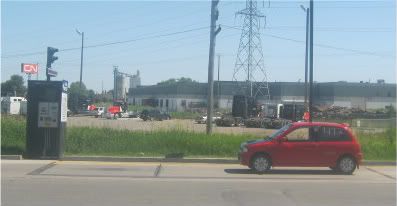 Turns out the car weighs 730 KG, 20 KG more than Wiki says it should. This is surprizing considering I took out the spare tire, jack, factory tool kit, Tire cover in the trunk plus the rear parcel shelf. Once my immensitude is added(with helmet) the car weighs 1895LBS or 860KGs. I know.... it was my HEAVY :rolleyes:
TAZ Floor mats,Steering wheel cover, Taz seat cover and Stuffed Taz Mascot!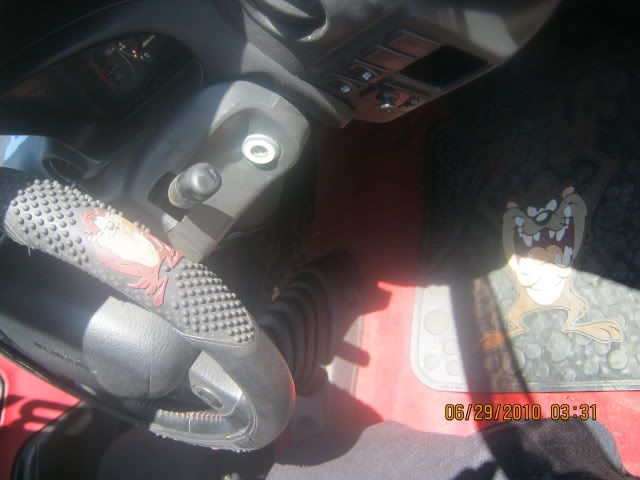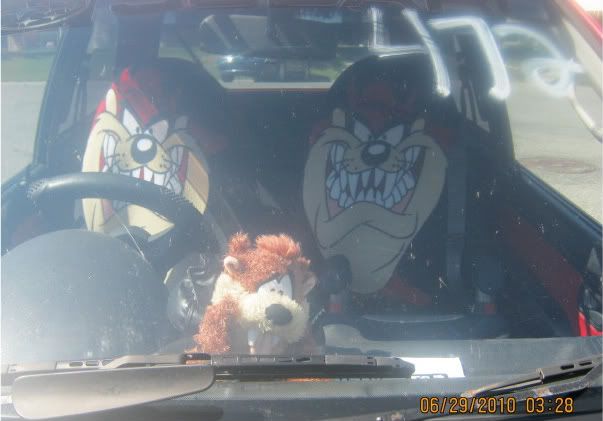 Here is a pic of the 2001 stock N.A. Imprezza I raced and was only Slower than by 1.1 seconds and 4 MPH.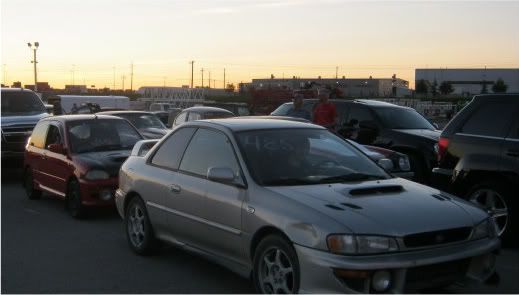 So I had a great time, I used the water box every time and the sound of that little 4 banger revving to 9500 RPM as the tires burned off was cool